This year is a different one. COVID has changed the world drastically. What seemed usual before is considered as something to avoid these days. Regular in-person meetings may even be prohibited. The most conferences in the world were postponed, moved online, or even cancelled. This was the destiny of jPrime 2020 as well – we have decided to cancel it, since we truly believe that for a community conference live interaction is one of the most important parts. We sincerely hope that humanity will find the cure for this awkward disease and quite soon everything will go to normal. …normal in terms of 2019, not the new "normal" we have right now… and in 2021 we'll have our jPrime conference back
As a result, all of the community activities almost frizzed. All of the in–person meetups were cancelled. Some of them went online with a variable success. Some big (even payed) conferences like Joker and Jpoint moved totally online with quite big good feedback.
In BGJUG we were a little bit "hibernated". After 5 really intence years of community meetups and conferences we gave ourselves a summer break.
This relax time helped us to recharge our batteries and get prepared for some new activities!
Earlier this year some of the isolation restrictions were removed and we could return to semi-normal life. One of this "semi-normal" activities became the Drive-In cinemas – often seen in the western world, but quite rare in Eastern Europe. Actually it is very good combination between safety and "real-life" experience. The spectators are sitting i their cars, the snacks and drinks are delivered on request, the sound is directly transmitted to the cars via FM radio.
Our colleagues from EPAM Bulgaria have tested the idea to use this Drive-In cinema to deliver talks, and everything went smoothly! So they offered to us to make a joint event specially for the Bulgarian Java User Group. This was an opportunity not to miss!
We have started the preparation in August and on 30th of September 2020 this event became a very successful reality!
i'll be quite honest – all this preparation was thrilling! I missed it so much!
For this type of conf there are several restrictions. Since it is an open air, it should be dark outside. Fortunately in September it is getting dark earlier. We had to fit in the slot 19:30 – 22:30. We have decided to make 4 sort time slots each 30 min. long. We have also tried to test different presentation formats:
– live
-semi-live
– .. and prerecorded
We had two great local speakers who came specially for this event (one of them from another city). They have delivered their sessions live.
Together with Adam Bien we have made a live prerecording of his talk with a small community of listeners in a confcall. This brought the "live feeling" in his talk. It is great honor to have him at our Drive-In conf!
And our special virtual guest Dr. Venkat Subramaniam has prerecorded specially for us his talk!
We had pop-corn beer and hot–dogs available for free for our attendees! Huge thanks to EPAM for sponsoring everything!
Let us take a look how it all happened!
Some preparation:
Kick-ing of the conf!!! (I am nicely parked by the regulations)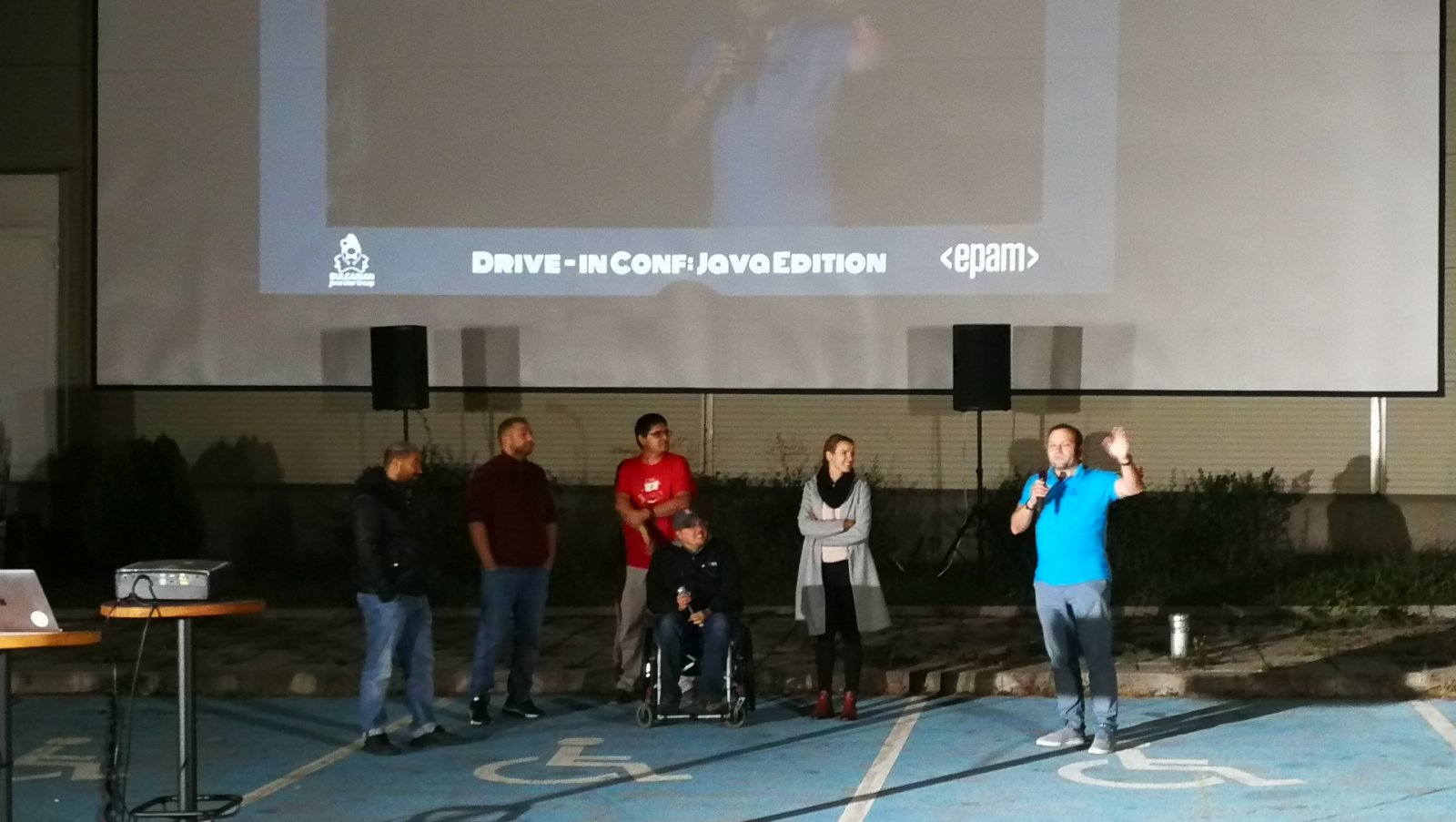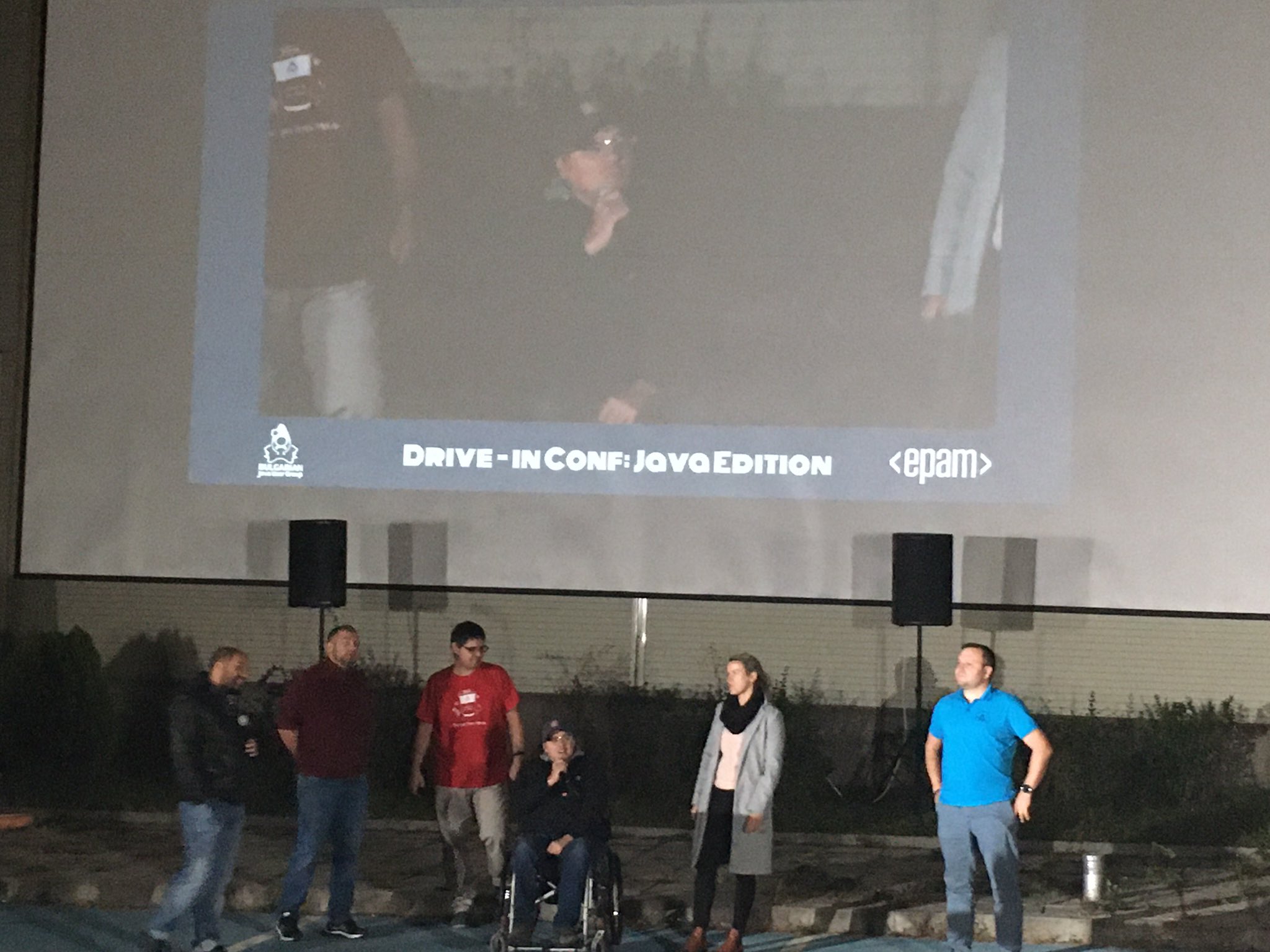 With a good social distance!
Our first speaker Kostadin Golev presenting live about good coding practices!
Our attendees are carefully listening in their cars
Food and beverages available all the time!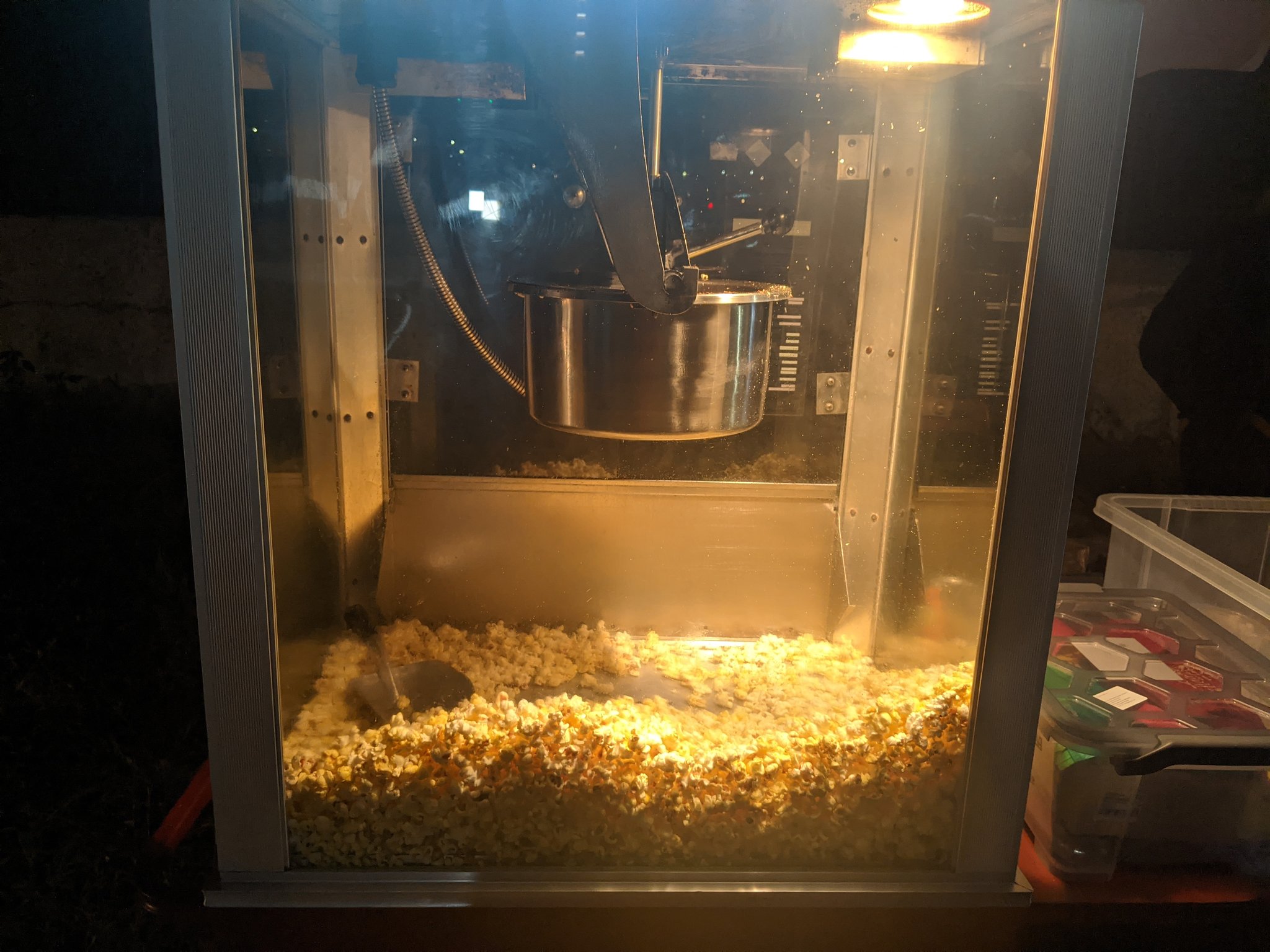 Our first experiment – a semi–live prerecorded talk by the great professional and speaker Adam Bien. I am happy there is some my voice recorded there and transmitted to the audience. It was really very "live experience"!
For the attendees who came without cars, there was a special lounge with a good social distancing. To be clear, it is allowed not to wear masks at open-air events in Bulgaria.
Our next speaker came Stefan Angelov from Plovdiv to share with us some knowledge about Java and Deep Learning!
And as our final speaker we had the honor to have Dr. Venkat Subramaniam, who delivered a wonderful talk about some new features in Java 15! The audience was thrilled!!!
Everything went soothly! We were fully booked and all the park places were taken! We are really happy that people came from different cities, not only Sofia! We had attendees from Burgas (~400 km), Plovdiv, Dobrich (~500km), Haskovo, Vidin, Stara Zagora, Veliko Tarnovo… Many of them made their long way specially for this event!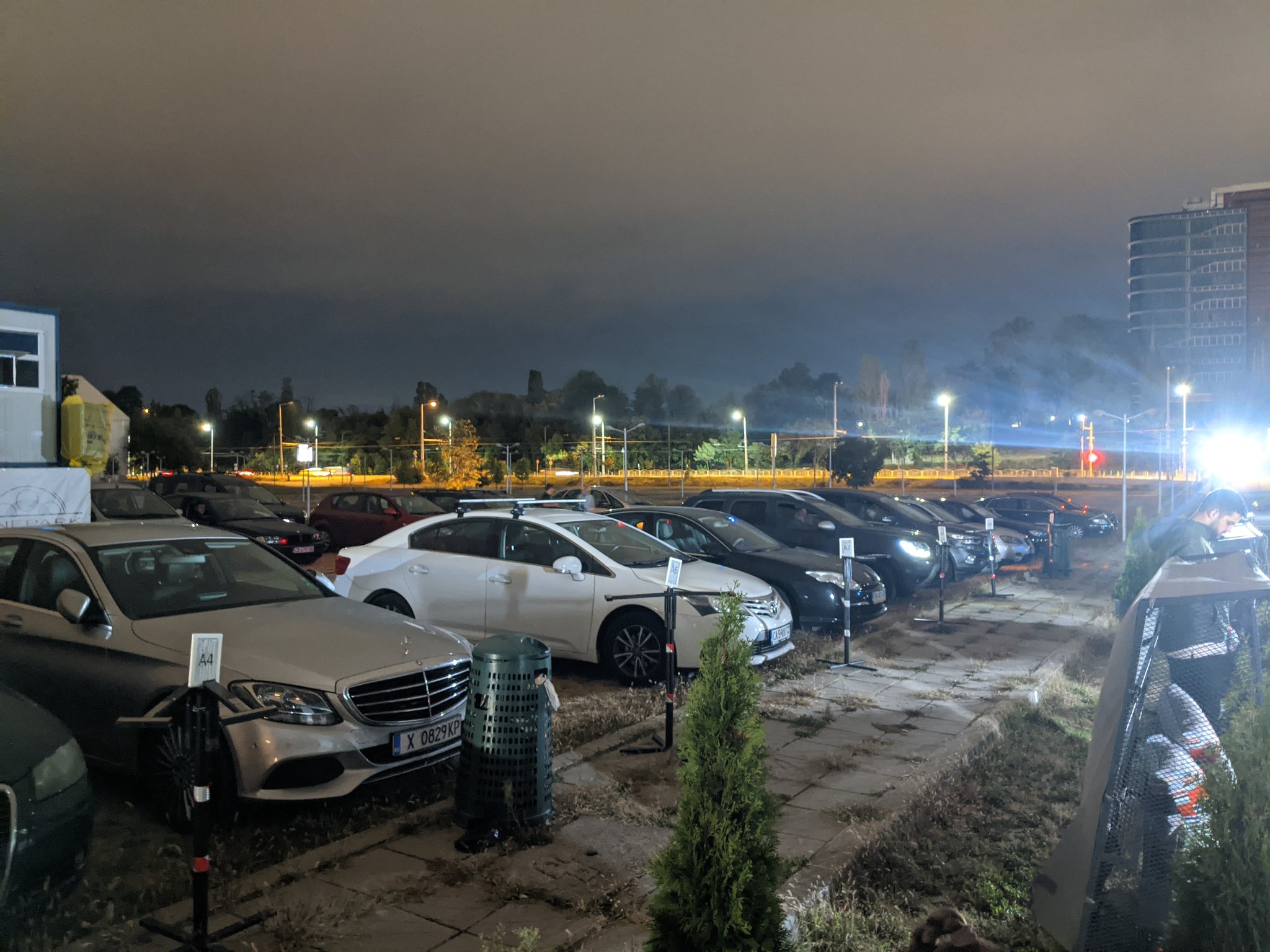 But all the good thing come to an end. 22:30 sharp we have closed our first ever Java Drive-In conference. As some of or speakers were prerecorded, we are holding their signs, .. to make them semi–present 🙂 Huge thanks to our speakers!!
It was like a breath of fresh air! A great new experience with all the safety precautions! Finally the long events pause is over!
I have received a lot of requests like "When is the second edition?" "We want next such event ASAP!". Even some some speakers wrote me "When is the CFP for the next edition?". This makes us very enthusiastic!!!
Huge thanks to EPAM Bulgaria, who were the generous sponsor of this event! THANKS A LOT!
I have made some research.. looks like we are the first in the world to make a Java Drive–In conference! It is a great new "pioneer" feeling! It is priceless! We love this innovation!
By the way, we have invented a Drive-In way of applause! Just take a look how awesome it is!!!
(thanks to EPAM and BGJUG for the photos)